So, bad news. Bad news that leads to good news. Cura will be taking a one week break next week, from the 11-15th, and there will be nary a page.
(Ducks rutabagas and parsnips and rotten corpses.)
No, I know, I know, it sucks. But there are REASONS. Primarily, first and foremost, it's because I am heading to the beach to sit in the rocky sand and do nothing but read for a week, because raising a child is chapping my ass. That's what I'm going to the beach to do. I will instead likely write for most of the weak cursing my lack of electricity in the rocky sand, but that's neither here nor there.
While I am away, Dex will be hard at work at SOMETHING. It is not a something like, say, the something we put at the back of the Year Two trade, which was an awesome something, but rather another something. No, not The Domain, though by now many of you have probably seen the preview. What we have to work on is something so incredibly rad that it requires a contract from a third party. What we have to create in our spare time comes with a logo. What we have to do with our spare time is a thing that, unlike Cura, you can walk into a store and buy.
And THAT is RAD.
And THAT is, alas, all I can say right now. But bottom line, your patience here now will be rewarded, and we thank you as ever for sticking with us.
Also, if you do not check your Kickstarter mail, it is of note that ALL of the books are now in the wild, and should be headed your way. If you don't have them by the twentieth of this month, send me an email and I will go to the internet and find a pitchfork GIF and just watch it for a while before I drive to the post office.
Hey, folks!
Due to unforseen circumstances, we will be missing the Wednesday page this week. We will be back Friday, however, per normal. Thank you for your patience!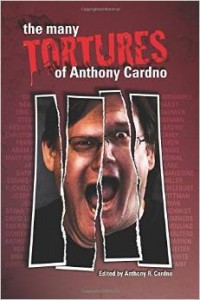 So, there's this awesome little book of short stories featuring a friend to Cura, Anthony Cardno, being tuckerized. That's where you put a real person into a story and make them a character, and it's a LOT of fun.
I wrote a story for this anthology, and the proceeds benefit cancer research and support, so it's a damned good cause for some damned good reading.
This should interest you, and if it does, you can follow this link and check it out! My story is called "I Have A Question." It's a little story about patience and patients gone wrong, and I'm pretty pleased with how it turned out. Well, not for poor Anthony, the main character, but you'll see…
Hey, folks!
As you may or may not know, our own Dexter Wee doesn't limit his substantial skills to just one comic…
Over the last year, I've been sharing the wonderful experience of watching Patriot-1 come together, with art by Dexter Wee and words by Kevin Powers. It's 176 pages in length, full color, and it ROCKS.
They are holding an ambitious Kickstarter currently to get the ball rolling, and I highly encourage you to contribute, if you can. I mean, it's Dex, come on! Check out some samples of the book, starting with the cover: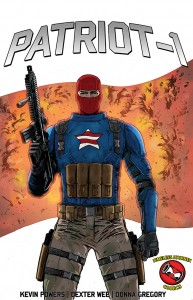 And here's a smaller sample of an interior pages: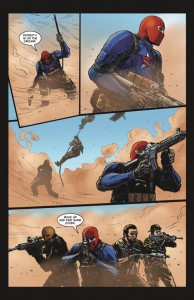 If you'd like to support via social media, here are a series of graphics for that purpose. You'll notice I've chosen one and popped it up on the site here, for the duration of the Kick.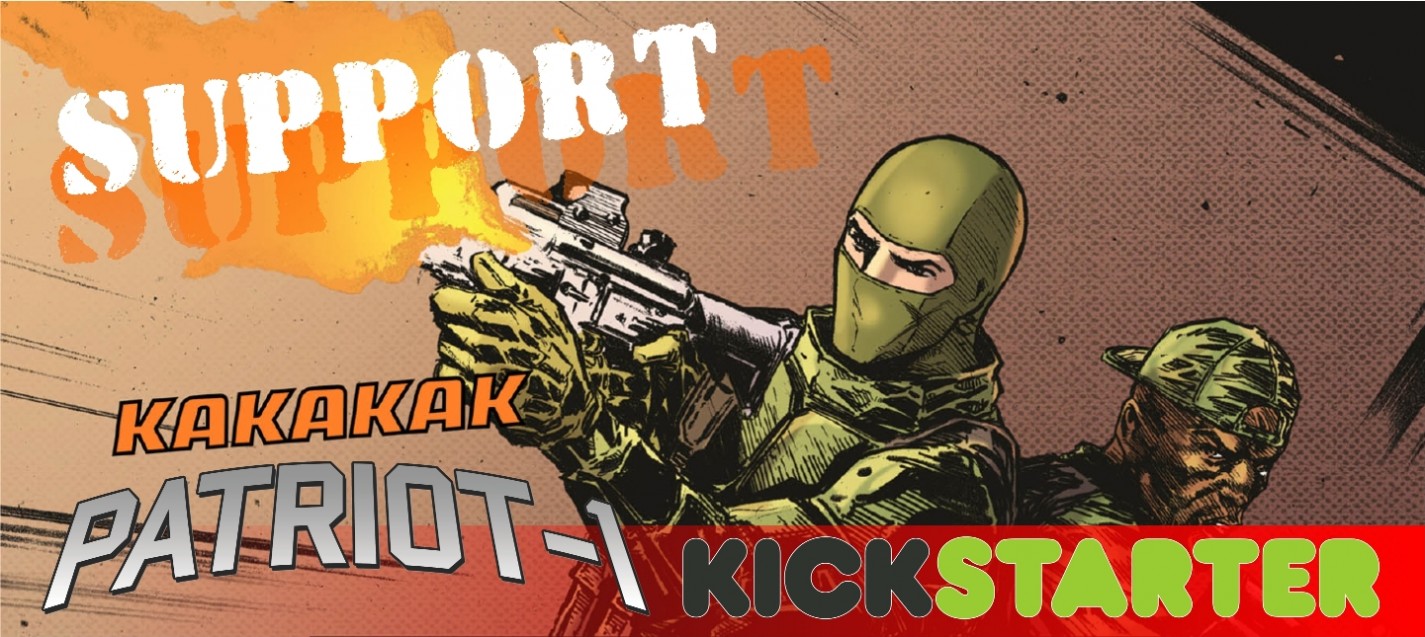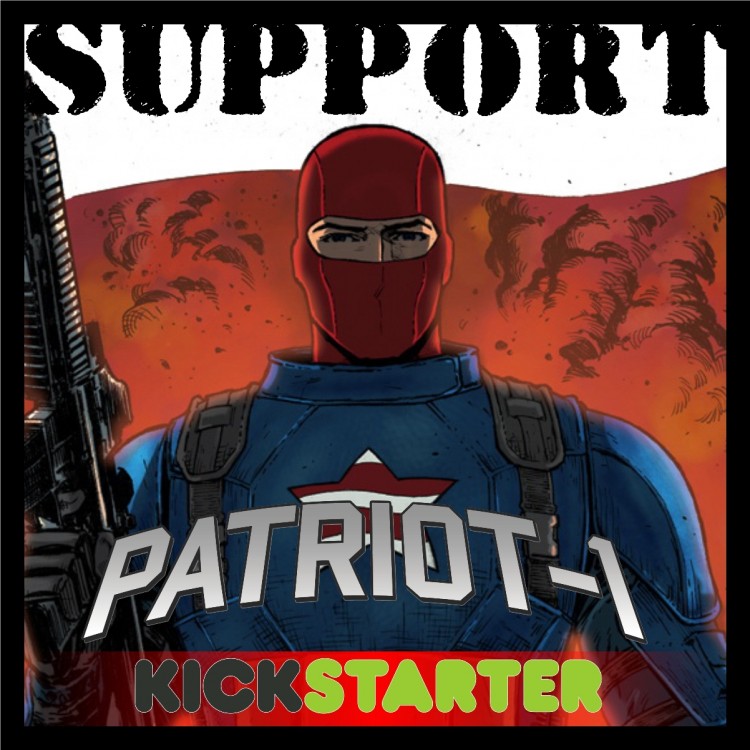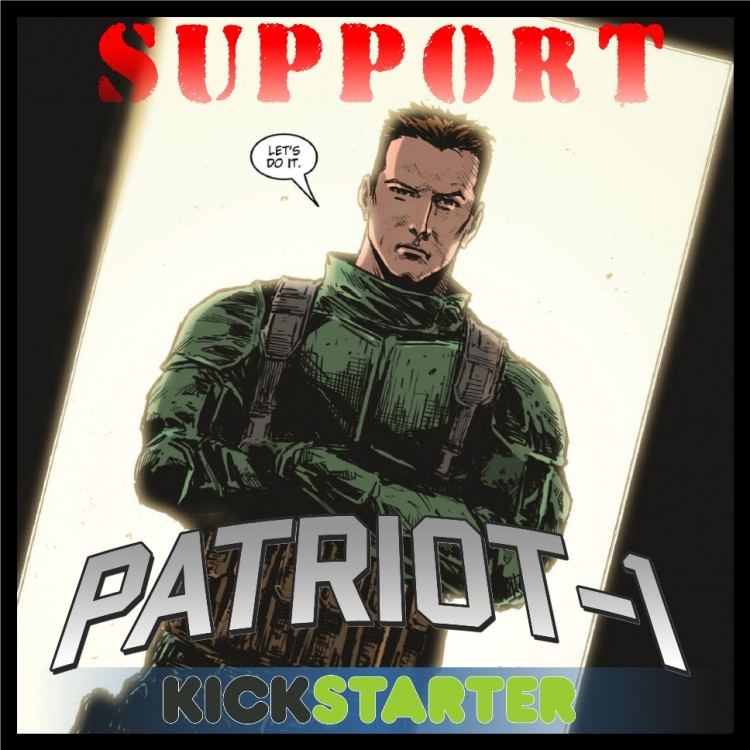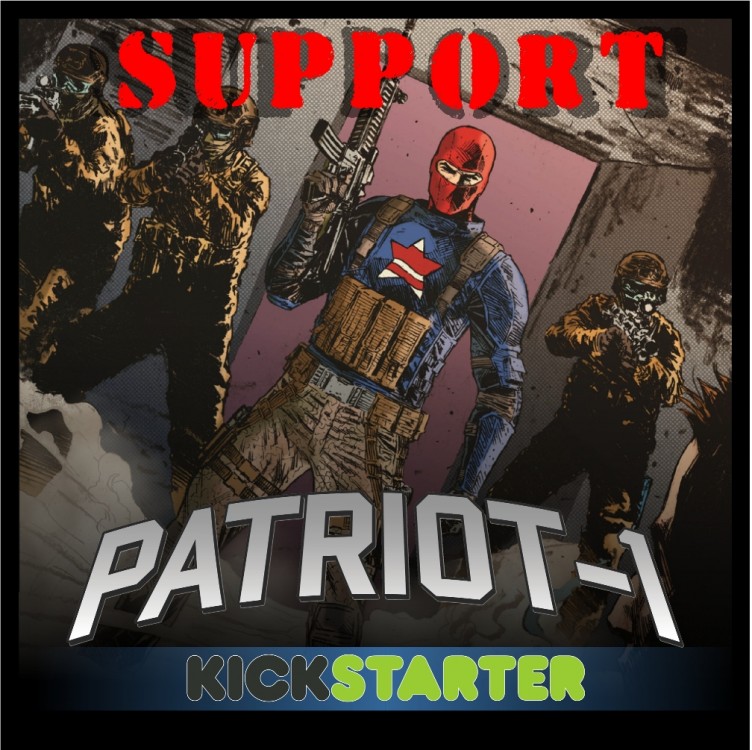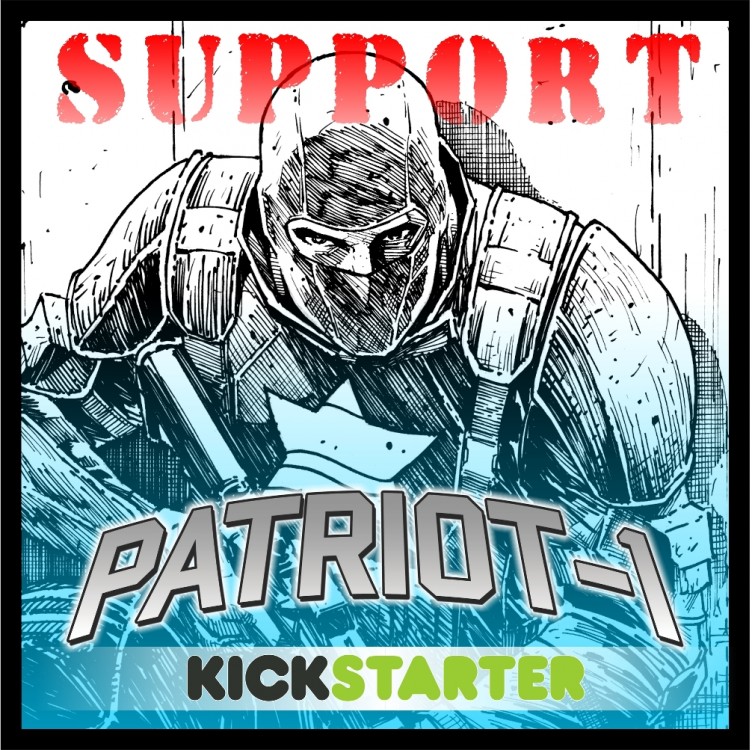 Best of luck to this work! Head on over and help it Kickstart!
Neal
Hi, folks!
First off, thank you all for turning out in such numbers for the Kickstarter so far! It's been overwhelming, exciting, and I still can't believe we're sitting about eight hundred dollars from our goal as we write this. It's insane, truly, and very humbling in multiple ways.
This post is to let folks know that, as Wednesday (517) will be the last page of this trade year, we will be taking a brief scheduled break to meet the demand of the Kickstarter and rebuild the buffer. It should be two, maybe three weeks max to the next page, and in that time I will be posting many updates at the Kickstarter to show you what we're doing and how we're doing it. Should be fun. Thank you for your patience. I promise, the first ten pages back will be more than worth the wait. They are quite nuts.
CLARIFICATION UPDATE: When I say year, I mean year in the sense of trades, as in Year One, Year Two, etc… Fixed the last paragraph to reflect that.
If you want to help us meet the goal and haven't, you can check out the Kickstarter here. Thank you for participating, telling a friend, and just generally being awesome!
Neal