Hi, folks!
First off, thank you all for turning out in such numbers for the Kickstarter so far! It's been overwhelming, exciting, and I still can't believe we're sitting about eight hundred dollars from our goal as we write this. It's insane, truly, and very humbling in multiple ways.
This post is to let folks know that, as Wednesday (517) will be the last page of this trade year, we will be taking a brief scheduled break to meet the demand of the Kickstarter and rebuild the buffer. It should be two, maybe three weeks max to the next page, and in that time I will be posting many updates at the Kickstarter to show you what we're doing and how we're doing it. Should be fun. Thank you for your patience. I promise, the first ten pages back will be more than worth the wait. They are quite nuts.
CLARIFICATION UPDATE: When I say year, I mean year in the sense of trades, as in Year One, Year Two, etc… Fixed the last paragraph to reflect that.
If you want to help us meet the goal and haven't, you can check out the Kickstarter here. Thank you for participating, telling a friend, and just generally being awesome!
Neal
The Cura Te Ipsum Year Three Kickstarter is LIVE! Please visit here, support, and tell as many friends as you can!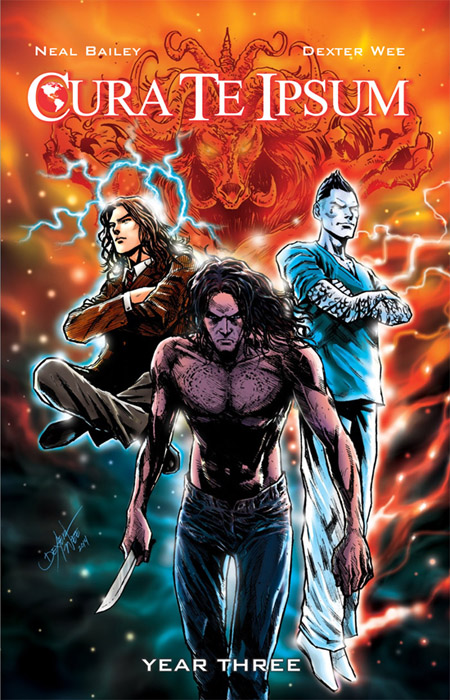 Hey, folks! We will still be at Emerald City Comicon, on Saturday and Sunday (NOT Friday, note). Our location has changed, however, from the aforementioned E-07, to D-10. Please come and see us!
(Cross posted on the Cura Te Ipsum Year Two Kickstarter)
Preliminary note: Cura Te Ipsum will be at the Emerald City Comicon in booth E-07, so please, by all means, come see us! We will have trades aplenty, and neat new banners! NOTE: We will not be present on Friday due to circumstances beyond our control, but we will be there for Saturday and Sunday, all day.
Now, on to the Kickstarter: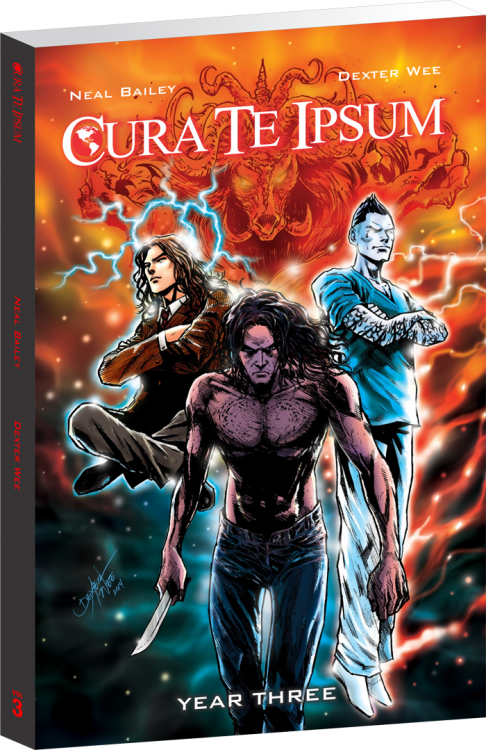 There she is! The mockup of the Year Three trade, which we are now working to finalize. Dex and I have spent the last few weeks crunching numbers, talking to close friends and readers, and assessing where to go with the next Kickstarter, and this is where we're at, after hearing your input:
-START DATES AND GOAL:
We will finish this year on April 5th, but the book is already ahead of schedule in terms of readying it for print, given what we learned from the last Kickstarter. Our current plan is to run the Kickstarter from the very early morning of APRIL 2ND until midnight of MAY 2ND. This will give us thirty days. While it would be nice to go from April 1 to April 30th, as you might have guessed, the internet has things to do on April 1st that might be distracting. Our target goal, which factors in limited hardcovers and glossy paper from the start this time, as opposed to as stretch goals, will be $7,000.
-LIMITED HARDCOVERS ARE GO, UNLIMITED HARDCOVERS ARE SCRATCHED:
People want hardcovers, but we realized that we don't need unlimited hardcovers to get you them. Unlimited hardcovers added WAY too many tiers, and complicated everything. It also added grossly to cost. We will continue the limited hardcovers (and there are a good number left), and if they all sell out, we can always reassess, because we'll be in a much better position. This serves several purposes. 1) It keeps the hardcovers special. 2) It keeps costs way down, and 3) It means we can focus more on the priority, the Year Three softcover trade.
-EXTRAS and STRETCH GOALS:
So far, the word is stickers. Stickers and buttons. I'm thinking we'll make stickers and buttons come with all orders straight out of the gate. What else do you guys want for stretches? Tee shirts? Prints? We have some ideas, but we also want to hear if there's something special you want, for those of you who haven't already sounded off.
This can't work without you, so please, by all means, feel free to leave comments or email me at neal@nealbailey.com if you have ideas, desires, or comments.
Thank you so much for supporting our comic!
Neal
(Cross-posted as an update on the Year Two Kickstarter.)
With the origin of the Dark Everett in full swing, Cura is reaching a number of crazy, incredible milestones. Five hundred pages? Check. Three years in existence? Check. Very tired artist and writer? That's a distinct possibility as well!
By my calculations (typing noises) we will hit page 514, the end of the third year, on April 5th. Soon after, we will attempt to Kickstart a third volume. What does that mean for you?
Well, it means I need your input, honestly. Here is the general takeaway from our last Kickstarter:
1) People want hardcover options.
2) People want the high quality paper.
3) WOW, you people are awesome.
It's really that simple, aside from months and months of work, but that's what we live to do, make comics, so no biggie. The reason I bring this up is because I want to make sure that our version of the takeaway matches with yours, because our initial plans are ambitious, and we want to make sure that you guys are eager to be ambitious with us, so we need your opinions on things we're considering:
-Our current plan is to have hardcovers and great paper right from the start. It will bump our target goal up a bit, but we're thinking that putting faith in you all hasn't led us astray. We will continue the limited hardcovers (as supplies last), including a new run of 50 for Year Three, but we also want to introduce unlimited hardcovers. These will cost less than the limited hardcovers, but lack sketches and have inscriptions from me.
-If you bought a limited run hardcover last time, we will match your number (out of fifty) if you purchase a new one in the Year Three Kickstarter. We kept track.
-For the exclusive backup material, Dex and I are planning on previewing a new comic we're working on together called The Domain. It'll be the first and only place you can get a look at the work in progress for a while, and we think you'll dig it.
-We're also maintaining most of the tiers we had in the last Kickstarter (sketches, dedication, etc), but adding a new one, where you can get a piece of original art with the purchase of hardcovers. There may be a cameo option.
-We are planning on shooting for a late April/Early May start, and a July/August delivery for trades.
-Our target is looking to be around $8,000, where our stretch goals for hardcovers and better paper were last year.
We are curious about your experience with the last Kickstarter. Did you like the postcards? The buttons? The bookmarks? The sketches? Are there any ways we could improve, or are there things you'd like to see we're not doing? Any comments, really, are welcome. Anyone who wants to email me can at neal@nealbailey.com, and we encourage you to be frank, as this book will not come to pass without you, and we want it to please you when it comes along.
Thanks again for your support last year, and I look forward to earning your faith again in the next few months!
Neal