That's right, folks! Our Kickstarter for my children's book that I made with Robin Robinson starts today! Check it out:


It promises to be quite a hoot, so please, give it a look. Good for kids and adults! Check it out here!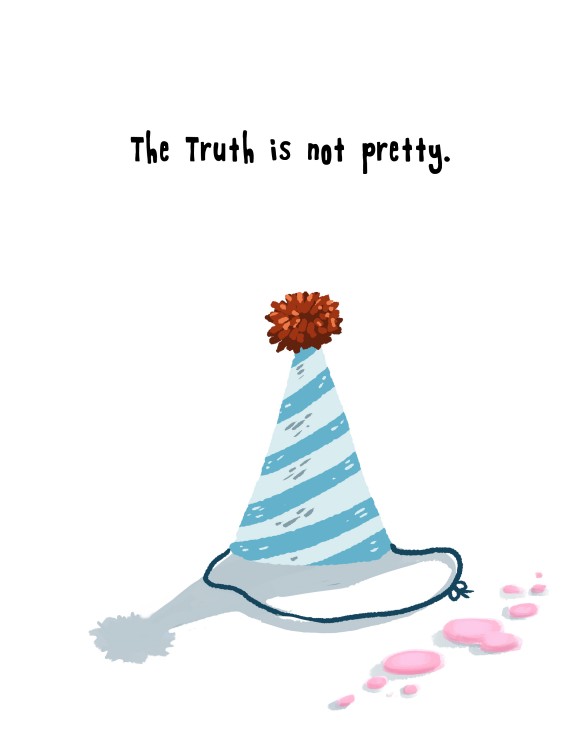 Indeed, it is not! But this book will be.
The Truth (About Your Parents) is a children's book that, in secret, I have been working on with Robin Robinson of The Last Keyhole, Ushala at World's End, Wanda's Wart, Meet the Bad Day Monsters, and much, much more. We've plucked away over the last year, and we are finally ready to KICKSTART this crazy ride!
What happens after your parents put you to bed? Well, first, they make sure you're really, really asleep. Then, they take off their parent masks, put on party hats, and eat ice cream that children could have eaten, because ice cream that children could have eaten keeps them strong.
Think that's bad? When they're finished, they get in the flying car they hide from you and fly to their home planet, where the cotton candy flows like water and there are carnival rides ALL NIGHT LONG.
Of course, as they do this, they leave you to face the EVIL CLOWN (TM). The horror!
The Truth is a book that respects the fact that kids are smart and can handle conflict, and it's also a demented story that parents will enjoy, we hope.
We'll be teasing out more details as the week goes by, but our current, tentative plan is to Kickstart from November 25-December 23rd. Watch this space for updates! You can also like our Facebook page here!
Check it out, folks! Dex did an alternate version of today's page, and we thought you might dig seeing it! Enjoy! (Click to make large.)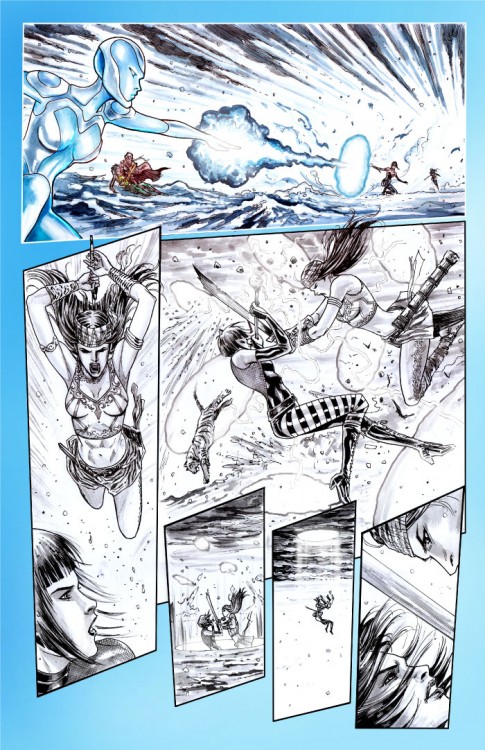 So, bad news. Bad news that leads to good news. Cura will be taking a one week break next week, from the 11-15th, and there will be nary a page.
(Ducks rutabagas and parsnips and rotten corpses.)
No, I know, I know, it sucks. But there are REASONS. Primarily, first and foremost, it's because I am heading to the beach to sit in the rocky sand and do nothing but read for a week, because raising a child is chapping my ass. That's what I'm going to the beach to do. I will instead likely write for most of the weak cursing my lack of electricity in the rocky sand, but that's neither here nor there.
While I am away, Dex will be hard at work at SOMETHING. It is not a something like, say, the something we put at the back of the Year Two trade, which was an awesome something, but rather another something. No, not The Domain, though by now many of you have probably seen the preview. What we have to work on is something so incredibly rad that it requires a contract from a third party. What we have to create in our spare time comes with a logo. What we have to do with our spare time is a thing that, unlike Cura, you can walk into a store and buy.
And THAT is RAD.
And THAT is, alas, all I can say right now. But bottom line, your patience here now will be rewarded, and we thank you as ever for sticking with us.
Also, if you do not check your Kickstarter mail, it is of note that ALL of the books are now in the wild, and should be headed your way. If you don't have them by the twentieth of this month, send me an email and I will go to the internet and find a pitchfork GIF and just watch it for a while before I drive to the post office.